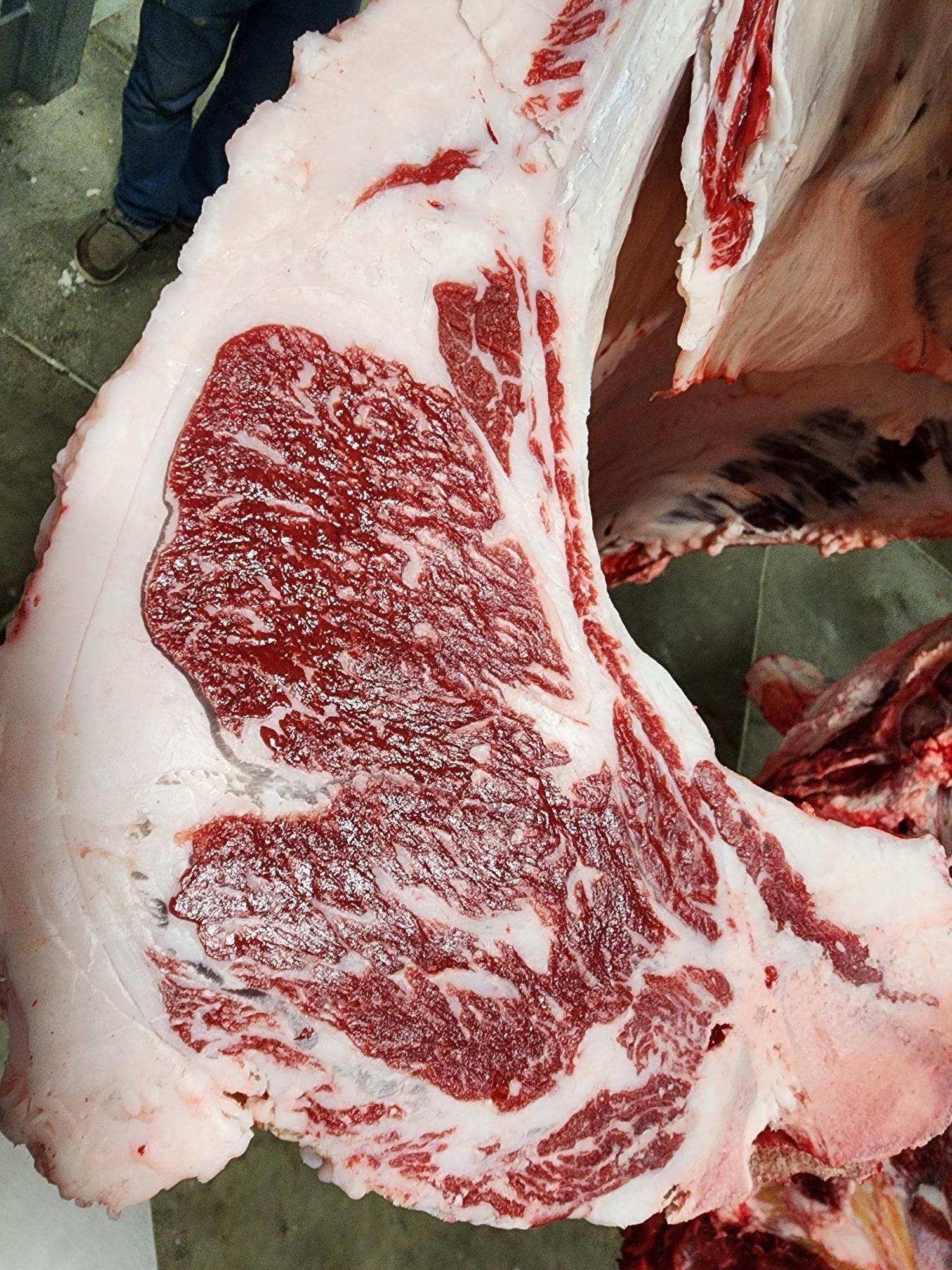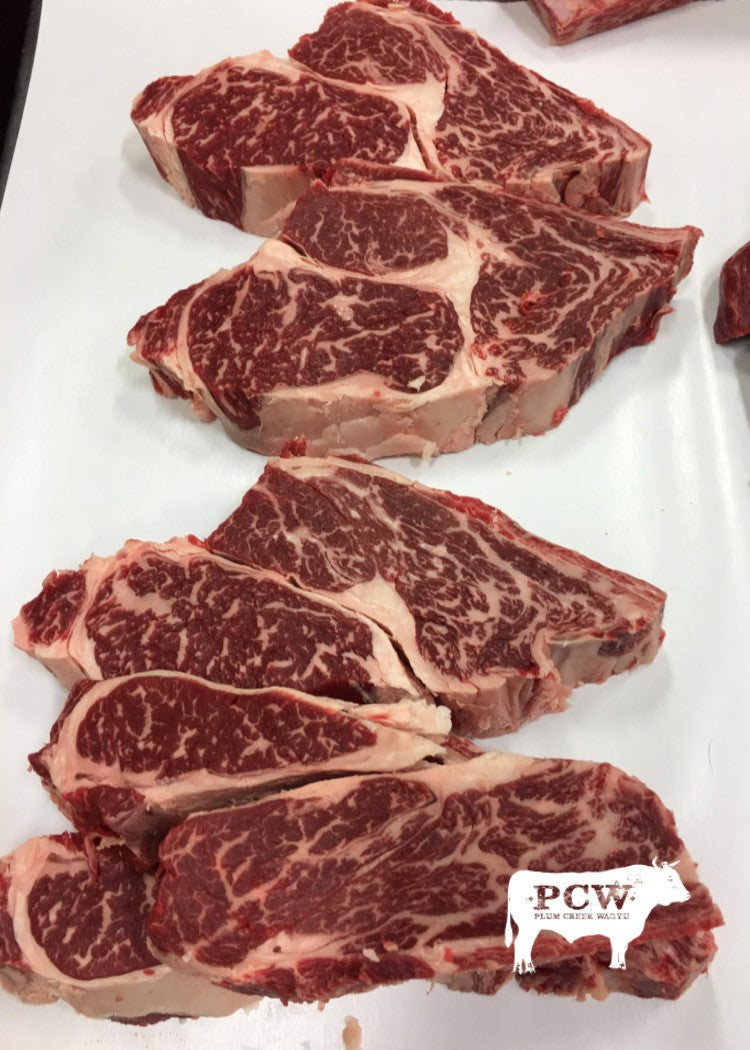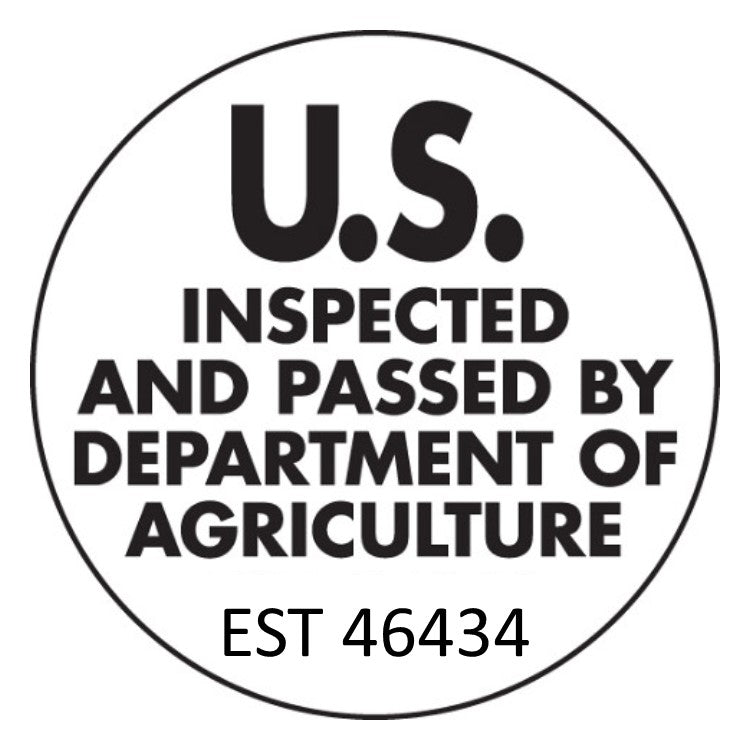 1/4 or 1/2 Side of Wagyu Beef - DEPOSIT
Size:
1/2 Side of Fullblood Wagyu Beef DEPOSIT
Plum Creek Wagyu offers our finest fullblood Wagyu Beef by the 1/2 or 1/4 (side) of beef—the most economical way by far to purchase beef of this quality.
Our herd consists of elite 100% fullblood Japanese Black Wagyu genetics by foundation sires and are raised on our farm in Crete, Nebraska.

Purchasing Process—Wagyu by the 1/2 or 1/4 is priced at $10 per lb hanging weight and does not include further processing. The hanging weight is the weight of the carcass before it is processed into individual cuts. Your take home weight will be approximately 35-45% less than the hanging weight depending on the particular steer and how you have it processed. On average, hanging weight is approximately 900 to 1,000 lbs for a full beef.

Half Side of Beef— You will receive a full "side of beef"—meaning you will get 1/2 of the front portion and 1/2 of the rear portion. If you purchase a 1/2, the "hanging weight" of that 1/2 of the carcass would be approximately 450 lbs. Sample purchase price would be (450 lbs x $10) = $4,500

Quarter Side of Beef—If you purchase a 1/4,  you will receive equal amounts of beef from the front portion and rear portion of the steer, totaling 1/4 of the weight of the carcass (approx. 225 lbs), so that you have a variety of all cuts. Sample purchase price would be (225 lbs x $10) = $2,250
USDA Inspected Processor—Plum Creek Wagyu beef is butchered and processed at the McLean Beef, where it is USDA inspected and cut into 1/2's and 1/4's.  Once the steer has been delivered to the McLean Beef, you will be contacted by these good folks to see if you desire further processing into individual cuts. They are easy to work with and can provide guidance on how you would like to have your meat cut.
Once the beef processing has started, we will receive the hanging weight and will bill you for the balance of your meat. Your balance with Plum Creek Wagyu will need to be paid in full before it leaves the processor. You will receive a separate bill from McLean Beef for processing that will need to be paid when you pick up your beef.
 
Give us a call at (402) 803-1797 or email plumcreekwagyu@gmail.com and we will answer any questions you have. We can also let you know the time frame in which we will have a steer available.
You can submit your non-refundable deposit online by simply selecting the 1/2 or 1/4 side of Wagyu Beef above. The required deposit is $1,000 for a 1/2 side, or $500 for a 1/4 side, which will be applied to the total purchase. 

IMPORTANT INFO about purchasing a 1/2 or 1/4 side of Wagyu Beef:
Please be aware that the PURCHASER of a 1/2 or 1/4 side of beef is responsible for coordination of shipping of your 1/2 or 1/4 side of beef. McLean Locker provides heavy-duty cardboard packaging for shipments.
If you are unable to arrange shipping, you will be required to pickup your beef from McLean Beef at 3208 S Lincoln Ave, York, NE 68467

All payments with Plum Creek Wagyu and McLean Beef MUST BE PAID IN FULL BEFORE your meat will be released for pickup.
Plum Creek Wagyu is unable to apply any promotional codes toward the purchase of this item.