All Kobe is Wagyu, but not all Wagyu is Kobe
Many people get Kobe and Wagyu beef confused. You deserve to know what you're buying. Here's the difference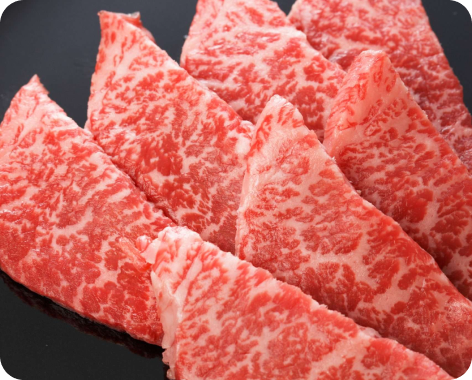 Wagyu is the actual breed of Japanese cattle, Kobe is not a breed of cattle. Kobe is fullblood Wagyu (pure Tajima-gyu lineage) that is raised and harvested in Kobe, Japan. All Kobe is Wagyu, but not all Wagyu is Kobe.
Often, restaurants have "Kobe" burgers or meat on the menu. Unless the meat was imported from Japan, this is a case of mislabeling.
Our cattle are 100% fullblood Japanese Black Wagyu. They have never been crossbred with another breed and maintain pure fullblood Wagyu genetics.
Less than 10 restaurants in the U.S. serve authentic Kobe beef, which is directly imported from Kobe, Japan.
Why 100% Wagyu?
Modern Wagyu cattle are a rare breed that are renowned for their incredible flavor and meat texture. The breed's heritage as heavy-duty draft animals give the cattle higher-than-average levels of intramuscular fat that creates its amazing marbling.

The texture of the meat is exceedingly fine, making it tender to the point where it literally melts in your mouth when properly prepared. Wagyu beef is superior to standard beef in every way possible. In fact, because of its high level of marbling, Wagyu beef often surpasses the standards put in place by the USDA for its top grade of Prime. Our beef typically are from 25% to 40% intermuscular fat.

You won't find that anywhere among standard beef.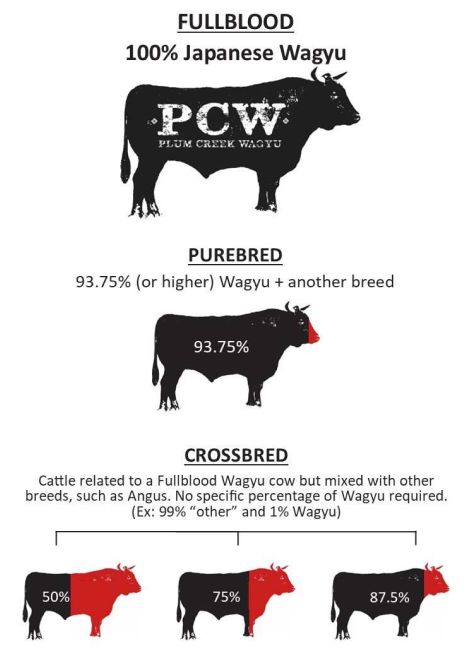 Quality, Guaranteed.
We do NOT sell Wagyu that has been crossbred with another breed (like Angus).
All of our Wagyu have been DNA-parentage verified by the Australian Wagyu Association and are 100% fullblood Wagyu with absolutely NO crossbreeding.
Our cattle are direct descendants of Japanese cattle with unmixed ancestry. They have never been crossbred with other cattle breeds and are raised in Nebraska.
Wagyu Delivered to Your Door
Choose from our exquisite selection of individual Wagyu steaks or leave the creativity to us with our one-of-a-kind samplers or gift boxes.
Contact Us to Order Wagyu Beef Online!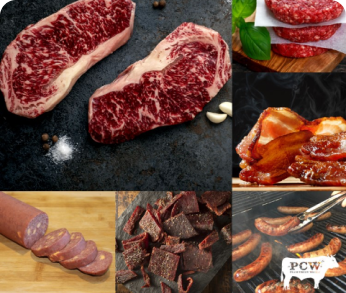 Subscriptions
Never miss that soft, buttery, delicious Wagyu taste when you buy a monthly Wagyu subscription.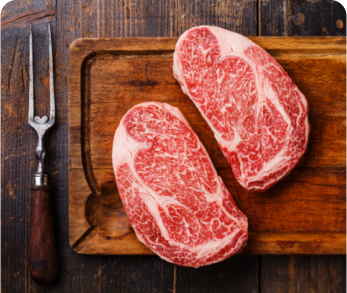 Individual Wagyu Beef Steaks
Order an individual Wagyu steak and experience the buttery melt-in-your-mouth flavor that only Wagyu delivers.
Find Our Wagyu Beef Steak Served At

Meat Your Next Delicious
The How-To Guide to Sharing and Experiencing World-Class Wagyu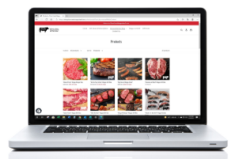 1. Build Your Luxury Box
Start your order by choosing from our exquisite selection of individual Wagyu steaks – or leave the creativity to us with our one-of-a-kind samplers or gift boxes.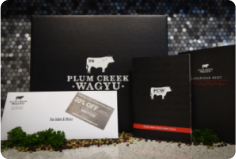 2. Make it Personal
We keep our menu simple so you won't get lost in decision land. But if you do need ideas, give us a call and we'll help you choose the perfect selections – even add a personal note or your business logo.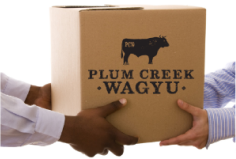 3. Skip the Wait
Once you click the order button, our team is on the job, shipping your order fresh and lightning fast. That means less waiting and more savoring.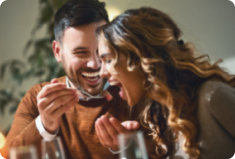 4. Savor the Win
Your box of Wagyu deliciousness arrives, and with it, a world-class culinary experience you won't get anywhere else. P.S. For best results, repeat Steps 1 - 4 regularly or subscribe today and never miss a box.
World-Class Wagyu, Every Time
Many sites offer pages and pages of complicated choices, making it easy to waste money. Others talk a good game, but don't deliver a truly world-class product. That's why we only offer 100% fullblood Wagyu beef so you can create a culinary experience like no other.